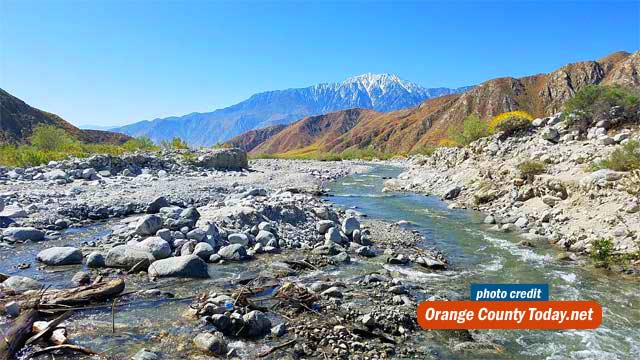 Surrounded by San Gorgonio Wilderness
Whitewater, Calif – The next time you are in the Palm Springs area, a trip to Whitewater Preserve is one of the region's must see destinations. 2,800 plus acres of beauty surrounded by the majestic San Gorgonio Wilderness, it's a wildly stunning place during the spring blooms.
A marvelous place to adventure or relax near the cool, clear waters of the Whitewater River that gurgles its way through the desert landscape. Hike either up or downstream to explore and lay claim to your own private desert beach for the day. Bring plenty of water and wear a hat and sunscreen if you don't wish to fry.
According the the Whitewater Preserve website, there is a "robust population of bighorn sheep, deer and bear." Warning signs also alerted us to mountain lions, snakes and flash floods as a possibility as well. The area is considered an important wildlife corridor between the San Bernardino and San Jacinto Mountains. Stay alert.
Visitor Center
For those less ambitious or energized, make your way toward the visitor center. There's plenty of comfortable shade with picnic tables, a paved trail, and ponds inundated with tadpoles resting in front of majestic vertical cliffs. Watch for bighorn sheep. The small parking lot can fill quickly. The visitor center makes a great start/end point for any visit.
The PCT
Cross the street from the visitor center, hop on the trails to begin exploring the desert beauty. A brief half mile walk gently winds to where the Whitewater River abuts the Pacific Crest Trail. It's not uncommon to find hardy souls making the once in a lifetime trek between Mexico and Canada along the PCT. An easy 2,600 mile stroll.
Whitewater Preserve
Whatever your ability level, the Whitewater Preserve is a convenient stop near Palm Springs that easily allows you to experience and appreciate some of the desert's best during springtime. It remains one of our favorite stops and gems of Southern California.
The Essentials
Cool off exploring the Whitewater River
Stroll a bit on the Pacific Crest Trail
Wildflower Blooms are amazing!
Easy to Access, check out Visitor Center
Bring plenty to drink
Wear sunscreen / hat / sturdy, waterproof shoes