First woman AAPI (Asian American Pacific Islander) Mayor of Buena Park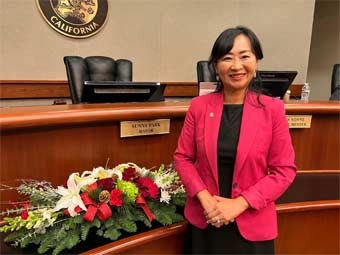 Buena Park, Calif. – At the December 14, 2021 City Council Meeting, the City Council held its reorganization, concluding Connor Traut's one-year term as Mayor and selecting new Mayor Sunny Youngsun Park and Mayor Pro Tem Arthur C. Brown.
Sunny Youngsun Park, sworn in by the City Clerk, will serve as the first woman AAPI (Asian American Pacific Islander) Mayor of Buena Park.
Sunny lives in Buena Park with her husband and daughter. Sunny earned her Juris Doctor from Golden State University, School of Law and her Master of Laws from New York University, School of Law.
She serves as the Director on the Orange County Fire Authority Board, Director for the Buena Park Cable Foundation, and a member of the California Asian Pacific Islander Legislative Caucus and the Buena Park Noon Lions Club. Sunny was elected as a member of the City Council in 2018 and served as Mayor Pro Tem from December 2020 to December 2021.
The City congratulates Mayor Park and looks forward to her term as Mayor. The City also thanks Connor Traut for his service as Mayor. In his year as Mayor, Connor established plans for two new parks in the city, placed a fee cap that food delivery apps could charge local restaurants, added "equity" to the City's Core Values, formed a Homeless Outreach Program, helped navigate the City through the pandemic, and more. Connor remains on City Council as a Council Member.