California declines 25% affordable housing offer, issues notice; city open to talks
Anaheim, Calif. – A proposed offer to add more than 500 additional affordable apartments and bring the development plan for Angel Stadium of Anaheim to 25 percent affordable has been declined by the state of California with the city open to continued talks.
The state's decline has resulted in the California Department of Housing and Community Development issuing what its has deemed a notice of violation of the state's Surplus Land Act on Dec. 8.
Anaheim has asserted and continues to maintain that the Surplus Land Act does not apply to the stadium site.
"We have always been aware of and complied with the Surplus Land Act and other laws that allow for the sale of public land," said Mike Lyster, chief communications officer and spokesman for the city of Anaheim. "We respectfully disagree with any suggestion otherwise. The new version of this law and how Housing and Community Development has interpreted it have created confusion across our state, and we are far from alone in dealing with this issue."
Expanded affordable housing
Anaheim and SRB Management LLC, made up of Angels owner Arte Moreno and family, offered to look at increasing the project's number of affordable homes from 777 to 1,295, with 518 of the affordable homes being available sooner than planned through offsite development across Anaheim.
Encouraging discussions between Anaheim, SRB Management and California's Department of Housing and Community Development led to the proposed look at partial offsite affordable housing. The proposal would make homes available sooner by not having to wait for the construction of parking structures to free up stadium land.
The proposed offer of 518 additional offsite units would see them come available within 10 years, rather than over 25 years in the existing plan adopted by the Anaheim City Council.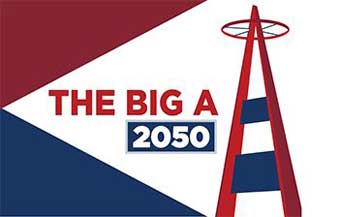 The effort to look at bringing added affordable housing to Anaheim sooner was initially welcomed and encouraged by the state.
But Housing and Community Development on Dec. 2 indicated to the city that it continues to have concerns about the mix of affordable apartments on and off the stadium site.
"We are surprised, disappointed and frustrated with the state's current stance, which comes after months of positive, collaborative talks focused on bringing even more affordable housing to our city sooner than planned," Lyster said.
"We stand by our stadium plan and the benefits it will bring to our city," Lyster said. "This would be the largest single expansion of affordable housing in Anaheim's history, keep the Angels in our city and bring revenue from development to serve residents. We welcome continued talks given the importance of this to our city and state."
The development comes after months of constructive, staff-level talks with Housing and Community Development about the stadium site plan.
The talks, which started in May, have focused on Anaheim's plan to sell the 150-acre stadium site to SRB Management and the role of the Surplus Land Act, a 1968 state law updated in 2020 and covering the disposal of unneeded government land.
In an April letter to the city, Housing and Community Development raised concerns about the stadium site sale and the agency has now shared with the city that it deems the plan to be in violation of the Surplus Land Act.
Difference of interpretation
The stadium site is unique and not seen as surplus land by Anaheim because it is covered by an existing, exclusive, long-term lease for baseball through 2029 with extensions through 2038.
The city is also seeking to sell the land for economic development opportunity as allowed for under state law.
A purchase and sale agreement for Anaheim's stadium plan was approved in December 2019 with other aspects of the plan going before the City Council through October 2020, all with extensive community engagement.
The plan calls for selling the site for $320 million with planned redevelopment of parking lots into 5,175 homes, including a minimum of 466 and up to 777 affordable apartments.
Development also would include a new or refurbished stadium, office space, hotels, shops, restaurants and park space.
The proposed consideration of expanding the number of affordable apartments seeks to bring the most needed affordable homes to people sooner.
The 518 additional units would be for very low income households making 50 percent of the county's median income and low income households making 80 percent, addressing the most urgent need in Anaheim.
The proposed offer sought to take advantage of development-ready sites across the city that are unhindered by baseball operations and the long-term development plan for the stadium site.
On the stadium site, 777 affordable apartments would be for moderate income households near or just above the county's median income and be built longer term.
"We are disappointed by the abrupt change in course after months of good-faith discussions," Lyster said. "We are open to continued talks on the mix and location of affordable housing as part of this project and are ready to find a path forward."